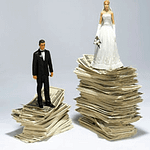 If you and your spouse have accumulated a high net worth and you face the possibility of ending your marriage, there is potential that you'll hesitate to take that first step because of the serious complications that may arise regarding the division of your marital estate.
Many difficult issues can arise such that you should obtain the help of experienced high asset divorce lawyers as soon as possible.  Below are just a few of the reasons that this type of help is critically important.
Property Division
If you are like many other people who are of a high net worth, you may have your assets in different forms of holdings and in many different locations.  Therefore, one of the most time-consuming steps regarding this process is making sure that all of these assets are properly disclosed and valued.  This may require the help of divorce lawyers who have the ability to work with specific professionals who can make sure that this process is handled properly.
Hidden Assets
Unfortunately, there are also many situations that arise that involve one or even both of the spouses attempting to hide assets that they do not want included in the marital estate.  Some of these instances involve the honest belief that a particular asset is not part of the marital estate, but failing to disclose it can be a serious problem.  Therefore, when it's suspected that assets are being hidden, high asset divorce lawyers can work with forensic accountants to locate these assets.
Business Valuation
Many California high asset divorce cases involve either the total or the partial ownership interest in a business by one or both of the spouses.  When this situation arises, the ownership interest needs to have a value placed upon it so that it can be applied to the marital estate for the purpose of an equitable asset distribution.  Experts may be needed to perform this function such that both spouses can benefit from the value of that ownership under the standards set out by California law.
Discretion
Many people who are of a high net worth are public figures of one sort or another.  Therefore, news regarding their divorce could be harmful to their business interests and their personal reputations, particularly if a divorce of this nature becomes nasty in the eyes of the public. High asset divorce lawyers who have handled these cases in the past understand this reality and work with the parties involved in an effort to keep the process as discrete as possible.
If you are of a high net worth and you would like to explore the possibility of ending your marriage, you need to obtain the help of high asset divorce lawyers in Ventura County who have been helping clients move beyond this difficult time for many years.  Contact Zonder Family Law today to schedule an initial consultation.